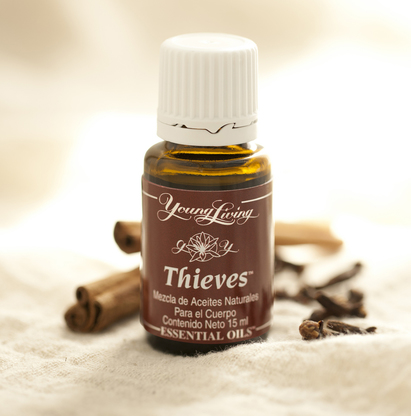 Fight the Flu with Thieves Essential Oil:
This flu season we want to help you and your family stay healthy and flu free! On top of washing hands and getting plenty of rest we recommend using Thieves Essential Oil (ALL THE TIME) diffuse it in your home, carry a bottle in your purse, and throw one in your gym bag.
These essential oils smell amazing and they have healing powers!  Thieves oil is known to reduce stress, neutralize bacterial and viral pathogens, improve digestion, strengthen bones and reduce inflammation, as well as lowering fevers, healing skin conditions, aiding weight loss AND strengthening the respiratory system.
We also love Thieves for its spicy blend of Lemon, Clove, Cinnamon Bark, Eucalyptus Radiata, and Rosemary, which you can diffuse throughout your home for a powerful, clean smell. Here are a few tips on using Thieves oil in your home.
How to Use
Topical: Dilute 1 drop with 4 drops of V-6 or olive oil. Apply to desired area as needed.
Aromatic: Diffuse up to 10 minutes 3 times daily.
Although we can't keep the flu and germs from spreading we can help you and your family stay as healthy as possible!