With Easter just a few days away, we are filling our baskets at Janey's with Easter treats for everyone! Whether you are polishing your spring wardrobe for Easter brunch or helping the Easter bunny pick out goodies, our team is here to help. Here is a just a peek at some of our eggcellent spring inventory.
Jellycat Stuffed Bunnies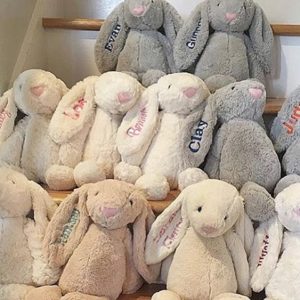 These precious Jellycat stuffed bunnies are perfect for the little cuddle bunny in your life. We carry these soft and cute bunnies in a variety of colors and sizes, so you are sure to find the perfect fuzzy friend. If you hurry in, we can monogram the bunny's ear for a personalized gift that will be cherished for years to come.
Jellycat Rainbow Pom Pom Birds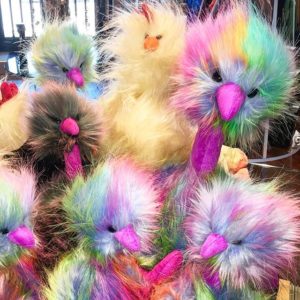 Another Easter basket must-have from Jellycat, these rainbow pom pom birds are the perfect little spring chicks! These cuddly little birds will add a pop of color to your Easter basket and be sure to bring a smile to your little one's face.
Charm It Stick-on Charms
Don't forget to fill the eggs! If you are looking to skip some of the jellybean sugar, our collection of Charm It Stick-on Charms are the perfect size to fill Easter eggs. These colorful stick-on charms come in a variety of designs from cupcakes to unicorns and add some flair to your notebook, tablet, or phone.  The possibilities are endless!
Polish Me Silly Nail Polish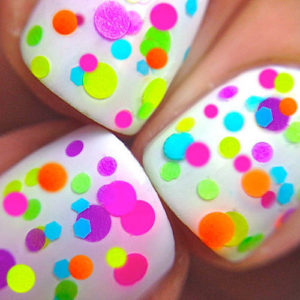 Our stylists at Janey's will have you covered from head to toe for your Easter brunch look, but don't forget your fingers! We are happy to carry a collection of Polish Me Silly nail polish to keep your fingers looking fresh. This unique, fun, one-of-a-kind nail polish is created by a mother/daughter team who love to create unique designs. Confetti, polka dots, and glitter- this nail polish is sure to add some sparkle to your spring style.
Nest candles, lotions, and scents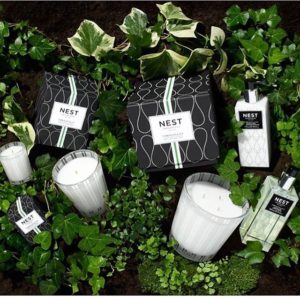 April is also known for showers- baby and bridal showers, that is! Nest candles, lotions, and scents make the perfect hostess gifts, and we have some refreshing new fragrances for spring. Don't forget to remind the mom-to-be of Janey's personalized baby registry. As always, shipping and gift wrapping is FREE!
We are always hunting for new styles- now it's time to hunt some eggs! Happy Easter!